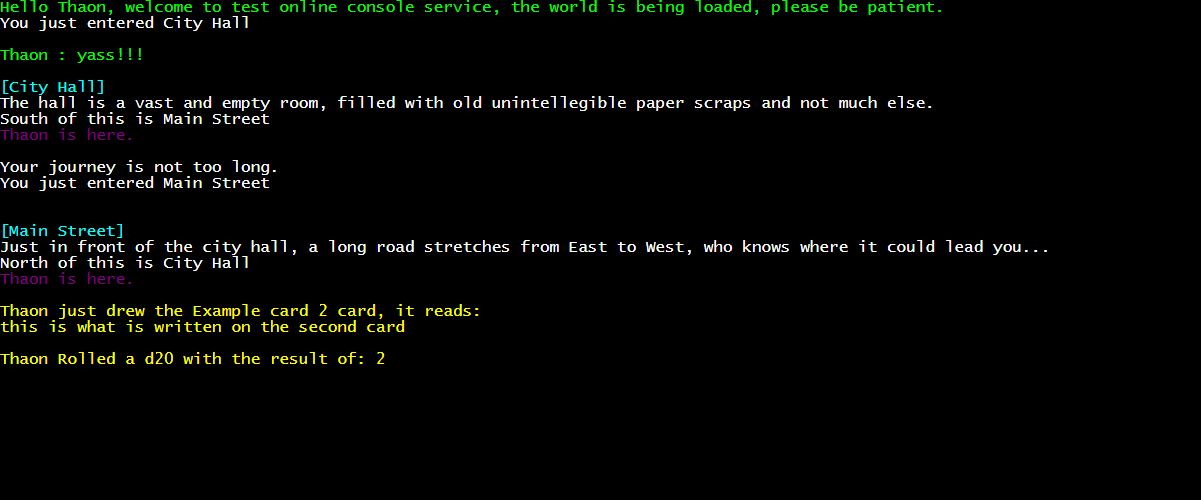 Open MUD
Hello everybody!
I have been a fan of MUDs since I was young and I have played countless hours of D&D, now that I am able to code decently, I wanted to give a stab at this genre.

OPENMUD IS MY ATTEMPT TO MAKE A MUD SANDBOX THAT CAN BE USED TO CREATE A MUD IN JUST A FEW MINUTES!
If this sounds too good to be true it's because it is, nobody can make their ad-hoc experience without the use of programming, but, with my tool, I hope to give a general purpose MUD sandbox to experiment with this fascinating genre.
HOW DOES IT WORK?
You only need to create a PasteBin with the world info inside it, using the structure found in the default world here: https://pastebin.com/cWkvPXYK
You can find the manual at https://open-mud.herokuapp.com/manual
COOL! THEN WHAT?
OpenMud will do the rest of the job, just tell your friends to go to https://open-mud.herokuapp.com/ and login into your world!
To do that, they have to type login + the ID of your world + their chosen name.
The ID of your world is the ID of your PasteBin, for example, the default world can be accessed by typing:
login cWkvPXYK YourName
From there, typing help will display all the available commands.
Note that since OpenMud is trying to be a one size fits all kind of tool, a lot of specialized functionalities are not implemented, I am open to suggestions though, so feel free to message me on reddit at DeepFriedGabe! you can also find the trello roadmap here

If you feel like helping me out, feel free to make a donation to support development, any amount is appreciated :)
Download
Click download now to get access to the following files: